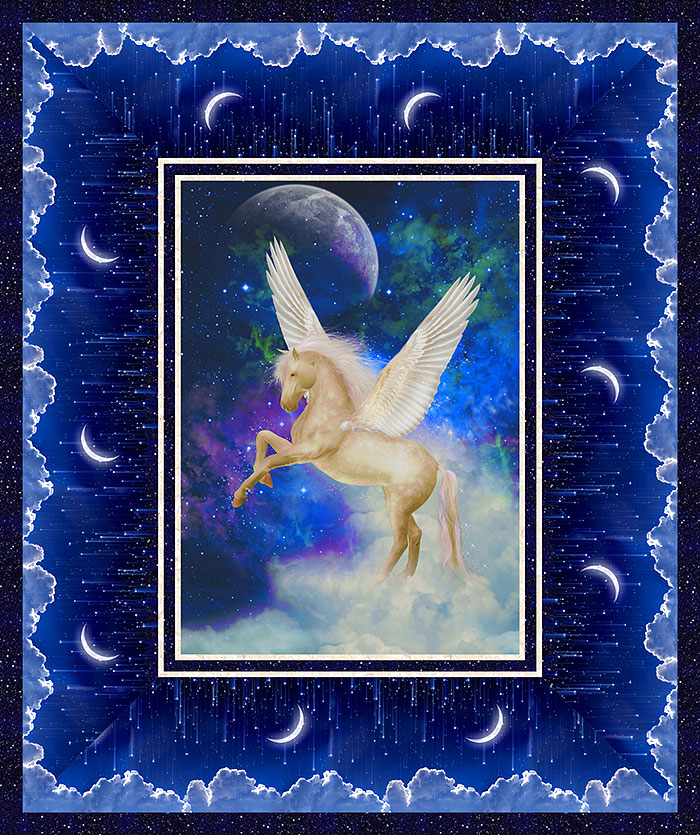 How will you spend the Solar Eclipse of 2017?
When the Sun and Moon align with the Earth on Monday, will you have Lunar Fever at your sewing machine?
This week's Exclusive eQuilter Free Quilt Pattern features our own digital printed Pegasus Panel, bordered by our exclusive Moon border print. You can ONLY get these gorgeous fabrics at eQuilter, and this just might be the perfect quilt to commemorate the Lunar and Solar Eclipses happening this month.
Make this simple but stunning 62″ x 74″ quilt as a wall-hanging or bed cover, and you'll have a conversation piece that will help you to remember the Eclipse for years to come!
… from the 'Magic Dreams' collection by the Rubin Design Studio, designed exclusively for eQuilter.
Order the pattern as configured, or customize it to your liking with any of our thousands of fabrics. Just place your desired fabrics in your Wish List, and these fabrics will appear in the Fabric Selector below the pattern.
Click Here for a Video Tutorial of the Free Pattern Designer.
Download Instructions for the pattern at the bottom of the pattern designer page.
Share Post: