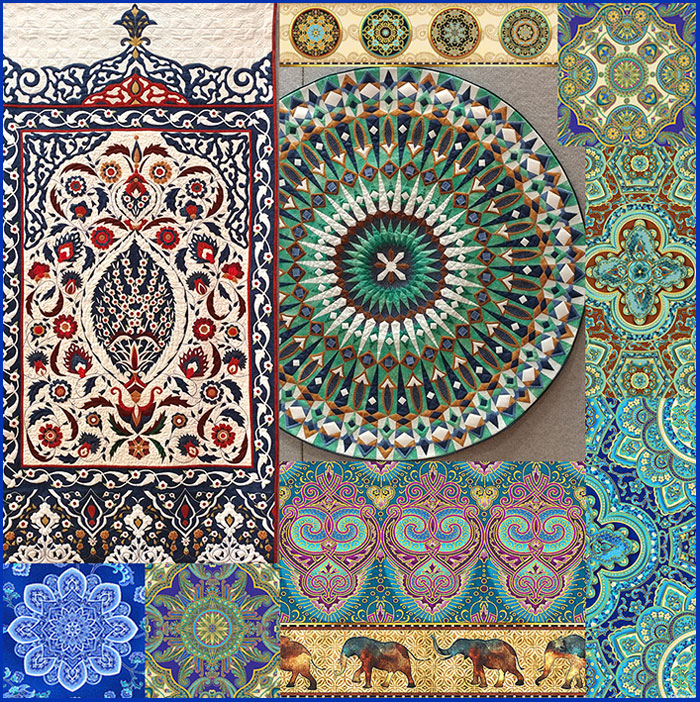 My globetrotting to quilt festivals abroad continues to be an international experience in more ways than one. This week I'd like to feature the work of New Zealand quilter Valda Sutton, and her 2 quilts in the New Zealand exhibits that were inspired by the Middle East.
Ottoman Odyssey (vertical quilt on the left) was inspired by her visit to Turkey, and Memories of Morocco (green mandala) is self-explanatory. Her work reminds me of what I saw at the Alhambra in Andalucia in Spain last year, and also of the Egyptian quilters – the Tentmakers of Cairo. The Moorish and Islamic patterns and designs with flowers, geometrics and paisleys are so captivating, with the jeweltones of the glazes used in their ceramic tiles.
Every time I share photos of quilts from shows, we get requests for the pattern! These are one-of-a-kind original quilts created by the quilt artist. However I've created a collage of similar fabrics for those of you who are inspired by this design aesthetic. You can see more Kiwi quilts from the 2015 show here.
I've posted these quilts on my photo page with several detail shots, so you can admire Valda's intricate piecing and applique work. I'll be uploading more quilts from New Zealand throughout the week.
On the way back from New Zealand I had 2 long delays totaling 10 hours, ballooning my travel from 22 hours to 32 hours. My delay in San Francisco was caused by the smoke and fires, but I certainly couldn't complain about a delay when thousands were losing their homes. I am sure many of you were following Pokey Bolton who had to evacuate from her property in Napa – and we are relieved to see she is back in her home with some damage from the smoke.
If you are aware of a California guild effort to make comfort quilts for fire victims, please forward that information to me through Customer Service. I will share that information with my network.
This Saturday we are having our 2nd Sewing Day for Hurricane Victims, and we thank The Presser Foot for providing the BERNINA machines for our upcoming event. You can see photos of the quilt tops we made last week, on our Facebook page.
sharing your Passion for Fabric…
Luana
********
Travel Calendar:
Oct 27 – Nov 2 – Quilt Market & Festival – Houston
Nov 8-13 – Color Marketing Group – Portland OR
Dec 29 2017 – Jan 5 2018 – Tanzania Africa Wildlife Migration Tour
Feb 22-25, 2018 – QuiltCon – Pasadena, California
Nov 14-20, 2018 – POLAR BEAR Tour – Join me in Churchill
Share Post: